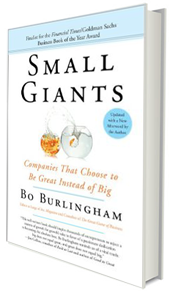 Small Giants
Companies That Choose to Be Great Instead of Big
Small Giants takes readers deep inside 14 remarkable companies that have rejected the pressure of endless growth to focus on more satisfying goals—like being great at what they do, creating a great place to work, providing great customer service, and making great contributions to their communities. In exploring these "small giants," Burlingham shows how every company can benefit by questioning the usual definitions of business success.
Small Giants should inspire thousands of entrepreneurs to reject a mantra of growth-for-growth's sake in favor of a passionate dedication to becoming the absolute best.

— Jim Collins, author of Good to Great
Street Smarts
An All-Purpose Tool Kit for Entrepreneurs
Norm Brodsky and Bo Burlingham wrote Street Smarts (originally called The Knack) to demonstrate the type of thinking that allows successful entrepreneurs to deal with "whatever comes up," whether it is an unexpected problem or a surprising opportunity. Drawing on the lessons Brodsky has learned during his 35-year career as an entrepreneur, the authors provide a practical guide for anyone planning to start a new business or looking to grow an existing one.
As an entrepreneur you either get street-smart or you get eaten for lunch. The Knack is the 'tell it like it really is' success manual for anyone with entrepreneurial dreams.

— John Jantsch, author of Duct Tape Marketing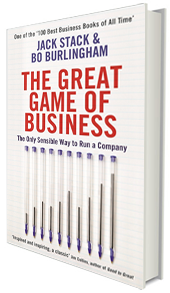 The Great Game of Business
The Only Sensible Way to Run a Company
When it first appeared in 1992, The Great Game of Business by Jack Stack and Bo Burlingham started a business revolution by introducing the world to open-book management, a new way of running a company that engages the entire workforce in creating and executing an annual plan. Since then, thousands of companies have successfully adopted the methodology outlined in this seminal book, and Stack's company, SRC Holdings, has grown into a $600-million conglomerate owned by its employees.
This is the brilliant story of the most radical act committed by a  businessman in this century. You can't run or manage  your business the old way once you read The Great Game.

— Paul Hawken, author of Blessed Unrest and Natural Capitalism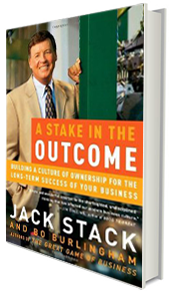 A Stake in the Outcome
Building a Culture of Ownership for the Long-Term Success of Your Business
No one knows more about building a culture of ownership than Jack Stack, who's been working on one for the past 35 years with his colleagues at SRC Holdings Corporation (formerly Springfield ReManufacturing Corporation). In A Stake in the Outcome, Stack and Bo Burlingham explain what it really takes to build for long-term success. The secret: a management system that taps into the most underutilized resource in business today–namely, the enthusiasm, intelligence, and creativity of a company's employees.
A refreshingly sensitive and sensible guide
to motivating employees, this new volume by Stack
and Burlingham (The Great Game of Business)
is a standout in its crowded genre.

— Publishers Weekly